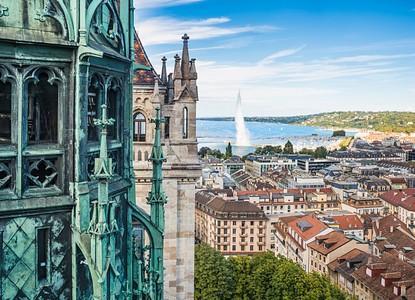 Switzerland is renowned for its status as a multilingual hub of Europe. With four official languages, it's the perfect place for any budding linguist to flex their language muscles. One of the most commonly used languages in Switzerland is French—rating as a top reason many French-enthusiasts opt to study there in order to improve their language skills.
Situated at the tip of Lake Geneva and against the backdrop of the Alps, Geneva is at the heart of French-speaking Switzerland. Existing in an enclave of French culture with distinctly Swiss influences, it's no surprise that Geneva is acclaimed as one of the most culturally-unique and internationally diverse cities of Europe. Studying abroad in Geneva offers the chance for full immersion in the French language, while providing students with a unique insight into French culture and customs.
Read on to learn more about why studying abroad in Switzerland through Webster University Geneva is a great way to improve your French language skills!
Practice Your French With Native Speakers
If you choose to study in Geneva at Webster, you'll find many opportunities to practice your language skills with native French speakers. In Switzerland, French is the primary language for nearly a quarter of the population. The best way to learn in this environment is to engage with as many French speakers as possible. Not only will you improve your French speaking and listening skills, but you'll make the most of your studies abroad at Webster by immersing yourself in the local culture and people.
As a city that prides itself on its international diversity, Geneva welcomes those who wish to participate in the local language and culture. A significant population in Geneva also speaks English, should you need help communicating. Yet don't be afraid to ask questions if you don't know something. The only way to learn is to put yourself out there, even if your abilities are nowhere near perfect. Geneva is a very accommodating city, and you'll quickly discover that the locals are often happy to assist. As the EU Headquarters for the United Nations, as well as home to many international organizations and consulates, Geneva is full of local services that are accustomed to helping foreigners fit in.
Experience Multilingualism With the Chance to Study in Europe
Nearly 50% of Geneva's residents originate from other countries, and the majority of Swiss people speak two or more languages. Living and studying in a multilingual environment provides Webster University Geneva students with a great opportunity to practice their language skills in a global community. The experience also offers exposure to a diverse and international culture, teaching students to appreciate multilingualism on a day to day basis.
One of the many benefits afforded to those who study in Europe is the opportunity to travel. Europe is renowned for its affordable travel options, with multiple train and air routes available between countries across the continent. If you're looking to expand your French studies even further, you have the option of visiting France during your study abroad opportunity at Webster, and immersing yourself in another aspect of French culture. Studying in an international hub of Europe provides students with a launchpad to immerse themselves in different languages and cultures.
Tap Into Swiss Culture Beyond the French Language
Learning a language is about more than just speaking it. In fact, the most rewarding way to learn is by immersing yourself in every aspect of the culture. Switzerland enjoys an abundance of culture, from local cuisine to francophone television programming and architecture that blends Swiss and French styles. Visiting and experiencing all there is to love about francophone culture in Switzerland will perfectly complement your language studies. Not to mention, you'll have more opportunities to practice your French language skills in various real-world contexts!
Consider taking a trip to Switzerland's famous wine regions Lavaux (a UNESCO World Heritage destination) and Valais, all accessible from Geneva by the renowned, timely Swiss trains. The breathtaking landscapes here produce around one third of Switzerland's wine. If nature is the type of attraction that appeals the most, take advantage of the great outdoors with a trip skiing or snowboarding in the Swiss Alps. Whether your passion is food, wine, languages, nature, or history, Switzerland has something for everyone to enjoy—making it that much easier to learn French along the way!
Are you interested in improving your French through a study abroad in Switzerland Opportunity?
Contact Webster University Geneva for more information!
Request more information
Loading...